SSH9402CCY Fence Semi-trailer
Product Detail
Product Tags
Dimensions:13000,12500,12000×2550,2500×3980,3880,3780,3680,3580,3480,3380,3280
Cargo size:12900,12400,11900×2470,2450,2430,2400,2380×600
Total mass:40000
Payload:33500,34000
Tare weight:6500,6000
Saddle quality:16000
Front suspension/rear suspension:-/2300,-/2250,-/2100,-/1800
Approach angle/departure angle:-/12,-/13,-/14,-/15
Axle load:-/24000(triaxial group)
ABS:exist
Identification code:LA9940C3×××SSH×××
Chassis model
number of axes:3
Wheelbase 6880+1310+1310,6780+1310+1310,6680+1310+1310,6480+1310+1310,6280+1310+1310
number of tires:12
tire specifications:11.00R20 12PR,11R22.5 12PR,12R22.5 12PR
front track:-
rear wheel:1840/1840/1840
number of leaf springs:-/-/-/-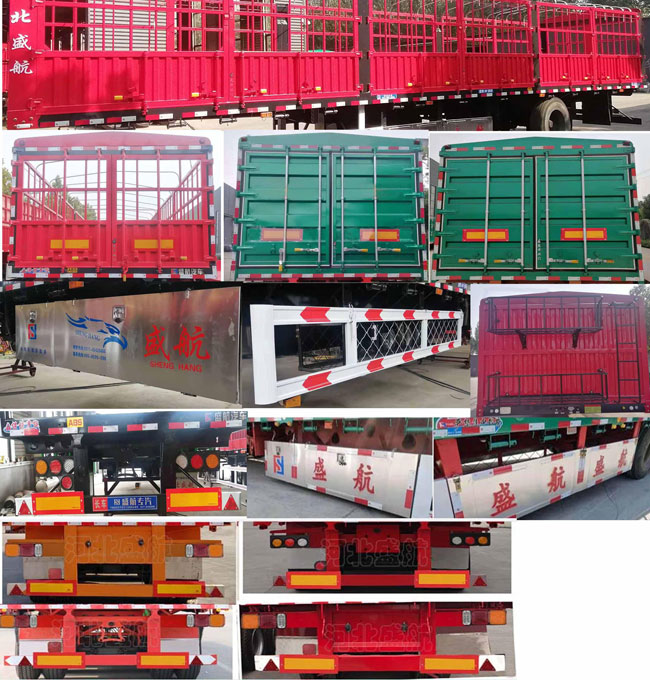 The height from the bottom of the carriage to the top of the warehouse grid and the corresponding total height: 2400mm(3980mm, 3880mm), 2200mm(3780mm, 3680mm), 2000mm(3580mm, 3480mm), 1800mm(3380mm, 3280mm).
Optional long lock bar or short lock bar side-by-side door silo structure, Optional two-layer, three-layer warehouse grid, Optional rear back door flower-column, Three-leaf rear door, two-division semi-closed door, closed off the entire style, Full closed style, Fully enclosed rear door style optional pattern concave and convex style, The rear door panel can be vertical corrugated, galvanized sheet, Square tube flat back door;Optional side style, Optional hinge style, Optional vertical corrugated, galvanized sheet, Square tube style, Optional front door style, Optional beam special-shaped hole style, Optional built-in lock and optional round post style, Optional rear style;Optional Toolbox and Mesh Toolbox Styles;Optional number plate style, Installation position of optional tail marker plate, The optional rear combination lamp/fog lamp is a square structure.
1.ABS:CM2XL-4S/2M;
Manufacture:Guangzhou Ruili Kormee AUTOMOTIVE Electronic Co., Ltd.
2.Side/rear protective material used Q235B,connection method:Side lower guards and rear lower guards are welded,The rear ground clearance is 480mm,Section is 140mm×55mm,car length/wheelbase/rear suspension/Corresponding relationship between the distance and dimension of the traction pin to the front end of the vehicle(mm):13000/6880+1310+1310/2300/1200,13000/6780+1310+1310/2250/1350,13000/6680+1310+1310/2250/1450,12500/6480+1310+1310/2100/1300,12000/6280+1310+1310/1800/1300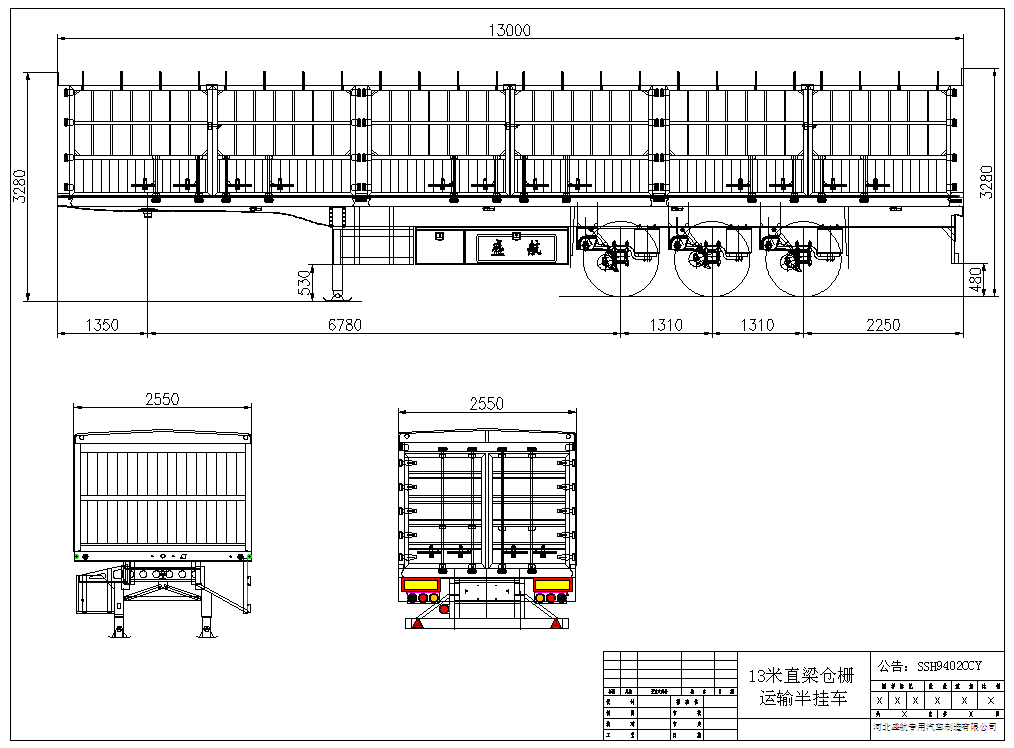 ---
Previous:
SSH9400Z Dump semi-trailer
---
Write your message here and send it to us